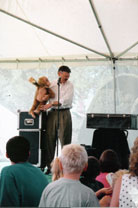 Dale Brown has a fun and educational show designed for children.  The topic is puppets and how kids can create their own puppets.
Dale performs at Blue and Gold Banquets, the children's stages at fairs and festivals, corporate family shows, holidays shows and more.
Dale uses a menagerie of characters for his children's shows including  a bird, a monkey and a turtle. He also uses the classic "dummy'style" character Chip Martin.
The show is interactive so members of the audience are involved…in fact, Dale turns one of the audience members into a "puppet" for a short time…the good news, he does switch the child back! See photo below!