How to Make Your Program a Success
It's important to keep in mind that comedy entertainment and motivational keynote programs require a seated, captive audience. Master ventriloquist Dale Brown's programs are highly "visual" and it is important that everyone be able to see his presentations, as well as hear them. Room set-up suggestions are diagrammed below.
There is a difference between local, regional and national entertainers/speakers, both in price and quality. Someone like Dale, who routinely performs in venues across the country, is going to deliver a consistently higher quality and more memorable program than someone with more limited experience.
Read Dale Brown's biography and use it as a comparison for other entertainers/speakers.
When you hire an entertainer, you've made an investment in how your attendees will react and remember your event. Note: After reading this sheet, you may want to print it out and give it to the manager of the facility where your event is being held. Also, give a copy to your master of ceremonies.
Following are basic suggestions compiled by professional program planners that you can, and should use to help insure your audience gets the most enjoyment possible from the ventriloquist entertainment you've provided:
Program Agenda
Your agenda can have a major impact on the success of your program.
Except for music, never schedule your entertainment as the last thing on your program. After dinner, attendees tend to feel lethargic, tired, and bloated. Speakers, presenters, auctioneers, or other participants often have a difficult time generating audience enthusiasm and enjoyment. Putting your entertainer on during dessert or immediately after dinner will help liven the audience up and make them more receptive and appreciative of other speeches or activities you have planned. Doing it in reverse will have a reverse effect. You'll be lucky to have half your audience left by the time you're ready to introduce the entertainer.
Handing out gifts or performing an auction or similar task prior to the introduction of your entertainment, is a sure formula for failure. The end of an auction, in particular, signifies the end of a program. As you get up to introduce your entertainer, you'll notice many of your attendees will already be heading for the exits. You've wasted the money you've invested on entertainment.
Sound System
Sound systems are integral to your audience's enjoyment of a professional ventriloquist act.
Make sure the sound system works. Test it.
Find out who will be in charge of the sound system during your event in case of a problem, or if changes have to made to the volume, tone, etc.
Be sure the microphone will be on a microphone stand and not attached to a podium.
Podiums
Podiums are great for your speakers and presenters. They are a major hindrance to a ventriloquist.
If you use a podium make sure it can be moved out of the way, so that your audience will be able to see the performer. Ventriloquism is a visual type of comedy. If audience members are not able to see the puppets or the performer, they're enjoyment will be significantly hindered and you will have squandered your investment in entertainment. Consider using your podium at one of the front corners of the stage, versus the center of the stage. It will make it easier to move out of the way without affecting the audiences view of your speakers. Facility managers will place the podium wherever you want it … so, remember to ask.
If the microphone is attached to the podium, hotels and banquet facilities usually tape the cord to the floor making it difficult to move the podium and even more difficult to remove the microphone and place it on a mike stand. The performer and facility manager can usually work out a way to set up the podium in a manner that will meet everyone's needs. If you think there may be a problem, make sure the performer is made aware of it so that he or she can make arrangements for a smooth transition from your introduction of them, to the start of their performance.
Master of Ceremonies
Following are some simple dos and don'ts for your Master of Ceremonies.
Check with the entertainer, prior to his or her introduction, to see if there is anything they will need help with, i.e. pulling a podium out of the way, moving a microphone, turning up the volume on the P.A., etc.
Always use some form of formal introduction for your entertainer. This not only makes you look like a well organized professional, it provides credibility for your performer and gives audience members specific reasons to look forward to, and enjoy the program.
Never announce that audience members have just a couple of minutes to "stretch their legs," prior to the introduction of your entertainer. People will head to the bar, the bathrooms and the parking lot … and never return.
Facility Layout
Again, ventriloquism is a visual art. The more audience members that can be seated in front of the stage area, versus to the sides, the better off you'll be. This is true even if audience members will be farther away from the stage.
If there is a dance floor directly in front of the stage, ask the facility manager to place tables there for your banquet. The tables can be removed for dancing, after your program ends.
The following diagrams show effective and ineffective stage layouts.
Effective Facility Layout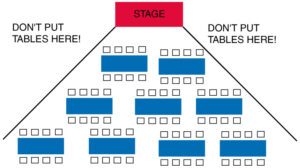 Ineffective Facility Layout