Fundraising Ideas for Service Clubs
If your non-profit organization is looking for an opportunity that will provide:
Great fundraising returns for very little effort
High community profile for your organization
An event that people will enjoy and remember … then read on.
The following letter from Dr. Norman Fjelstad, an Edgerton Rotarian, explains how his small group of 30 Rotarians raised $2,400 in one night, with minimal pre-event work. I encourage you to read Dr. Fjelstad's letter and benefit from his experience.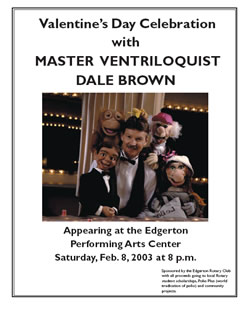 An Evening of Entertainment
Master Ventriloquist Dale Brown offers service clubs a special one man comic stage show that provides a full hour of side splitting, professional entertainment at a reduced, non-profit rate. A 30 minute comedy magic opening act is available at a reduced rate, as well. And, Dale will help you promote the event with press releases, interviews, layouts for flyers and posters, email announcements, and other assistance.
I hope you'll take advantage of this unique opportunity to offer your members an easy and entertaining fund raising opportunity.
(Note: Today most cities and towns have refurbished theatres, auditoriums or gymnasiums that can be used by non-profits for little or no fee. These community facilities are great venues for an evening of entertainment … entertainment that can result in a significant fundraiser for your organization without the commitment of your members' most valuable asset…time.)
Contact Dale at 262-789-1565 or dale.l.brown@bmpr.com for more information and special pricing.