Audience Participation and Ad-libbing-with Mark Wade
This book provides detailed instruction on how to work with audiences so you master the art of audience participation, which can be tricky, especially if you are working with kids. The ad-libbing portion will help you to to improve your act and make your more valuable when selling your show. $20.00.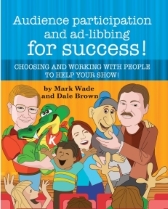 ---
Putting Money Where Your Mouth Is: Taking Your Vent Act to the Next Level in Terms of Comedy Dialogues, Customizing Your Show and Business/Marketing Tactics
"Putting Money Where Your Mouth Is" provides step-by-step information for aspiring ventriloquists on how to take their careers to the next level by writing better scripts, improving performance, promoting on a higher level, and succeeding as professional entertainers. This book provides detailed instruction on how to write original scripts for ventriloquist characters; how to become a master banquet performer and build a business around the banquet niche, and marketing and promotional guidelines that can separate you from other performers and propel your career to the professional level. $20.00.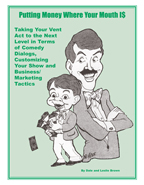 For visitors who purchased the Kindle version of the book, we are providing a PDF that provides the script writing charts, engagement contract and more in a usable format. Click here for the extra charts.
---
Close to a Thrill DVD
Dale's stage show, "Close to a Thrill," is available on DVD. Filmed at the historic Margaret Brate Bryant Theatre, the performance features Bertha the Bag Lady, Shaggy Dog, Louie the Jockey, Chip Martin, and others. Join Dale and his cast of characters for more than an hour of side-splitting comedy. Dale has appeared at the MGM in Las Vegas and at convention centers, theaters, banquets and clubs throughout the country. In addition he has appeared on Entertainment Tonight, Good Morning American, The Today Show and many other talk shows and news programs. This DVD is only $5 for a limited time only!!
---
Writing Original Comedy Dialogues for Ventriloquist Characters
This is an expansion of the workshop Dale conducted at the 2008 International Ventriloquists' ConVENTion. The book helps the beginning ventriloquist learn the basics of how to go about writing jokes and putting together a routine for a vent character. $10.00