In Service and Staff Development Keynotes that Educators Talk About and Use Long After the Presentation is Over

Nationally acclaimed humorist and keynote speaker Dale Brown provides realistic, proven advice on how teachers, administrators and staff can:
maintain focus on what's really important;
keep stress in check and
help students, co-workers, family members and others initiate and reach goals that lead to self-fulfillment
This entertaining, high-energy program is also aimed at helping teachers motivate students to be:
more productive,
self assured, and
successful.
…or as Dale puts it, this is a program about "How to Get From Where You Are to Where You Want to Be … and Help Others to do the Same".
Dale's presentation is designed to positively influence everyone from first-year teachers to experienced administrators. Whether it's a kick-off to a new school year, a "pep talk" during the year or an end-of-the-year banquet, you'll find yourself laughing, learning and implementing the strategies that Dale has been sharing with educators for nearly 20 years.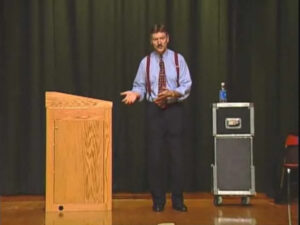 In this inspirational and instructional program, educators learn how to better access their full potential … and to keep problems in perspective and goals in sight. Audience members laugh, appreciate and learn … departing with renewed optimism and excitement for their lives.In post-seminar evaluations, this program consistently receives "Excellent" ratings from more than 95 percent of participants. Dale's staff development keynotes provide an opportunity to laugh, to learn and to begin on the journey of turning dreams into goals, and goals into action.
Background
A former teacher, Dale is president of Brown & Martin, Inc., a public relations and marketing communications firm serving companies across the country. Ironically what brought Dale to national prominence wasn't his background as an educator, author or successful business leader. It was his unique and effective use of ventriloquist puppets in the business world and educational settings.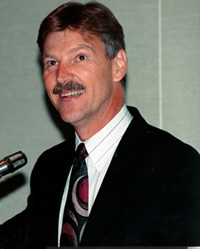 A Master Ventriloquist who uses his puppets as serious, but entertaining communication's tools, Dale has been featured in the Wall Street Journal, USA Today, Nation's Business, Time and many other trade and consumer publications. In addition, he has appeared on Good Morning America, ABC World News Tonight, CBS This Morning and a variety of other news and talk show programs.
Dale's highly acclaimed use of ventriloquism characters in business and educational venues led to his being selected Ventriloquist of the Year at the 15th Annual International Ventriloquist Convention. Business owner, educator, author, marketing professional, keynote speaker, award winning ventriloquist … Dale offers experience, professionalism and a unique, effective method of communication.
Let Dale help make your next staff development or in service meeting a truly memorable and instructive event.