Corporate
Your performance for Mirro's A.I.T. event was truly amazing. We'll be booking you for other company functions.
Mirro Company
Not only were you the highlight of our meeting, but your presentation did exactly what we had hoped.
It got across the key points we were trying to impress upon both our current sales staff and our new representative firms.
Automated Systems, Inc.
Thank you for a super job at our contractor nights throughout Wisconsin and Michigan. The compliments we received were overwhelming. Thanks for making Wickes a real hit with our customers!
Wickes Lumber
You and Chip did a splendid job of handling touchy, yet important, matters pertinent to our operations, with your unique and entertaining presentation. Our salesmen came to me on different occasions during the balance of our conference and expressed their pleasure at how such serious points were discussed so openly and freely.
Leverenz Shoe Company
The parody you did on our president's video message to employees was outstanding! And, I still have my job! Thanks, again.
A. O. Smith
Your choice of material was exemplary, tasteful and entertaining. The compliments are still flowing in.
Industrial Combustion, Inc.
A big round of applause to you and the terrific job you did at our distributor meeting. Many positive comments followed both your seminar and your after dinner program.
Litton Industrial Automation Systems
Thanks for your presentation at our Management Conference. People are still talking about you and your cohorts. Your banter with the various vice presidents and others in the audience had us all laughing and made our conference an enjoyable event.
Sta Rite Industries, inc.
Your influence during our employee retreat provided both a sense of humor and a dose of reality in announcing our new management structure. With your help we were able to present these changes in a positive and constructive manner. The praises of your presentation were heard through our office for weeks to follow.
HNI, Inc.
---
Banquets
Dear Dale:Dale, thank you! People are still talking about how funny you were. I was at a chapter meeting yesterday, and two of your "roastees" asked me to get you back! I've had a request for your contact information and I hope it pays off for you. We have enjoyed talking about so much of your presentation – my favorite parts were the dog puppet and the banana skit. My husband and I both had tears in our eyes! What a wonderful talent you have!
Thanks so much for sending us all off from our 69th Annual Meeting Celebration in Boise with smiles on our faces.
I certainly appreciate the time and effort you put into preparing for this event! The additional benefit of personalizing your delivery with so many people was great.
Thanks again for being so easy to work with, for being such a gentleman, for everything.
Sincerely, Deborah Zastrow
Education Specialist
Idaho Credit Union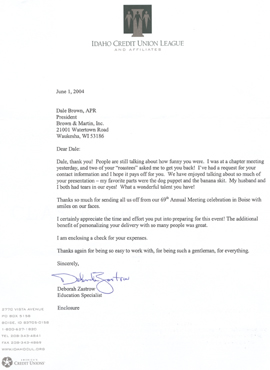 Thank you so much for entertaining our members and guests at the Charlotte Chamber of Commerce Annual Dinner. It was the best after-dinner program we've ever had.
Charlotte Chamber of Commerce
Thank you for your outstanding entertainment. It's difficult to find an after dinner entertainer that appeals to a wide audience. You fit the bill. We look forward to having your back.
Missouri Valley Ice Association
I can't tell you how many customers came up to me and thanked me for having you as our after dinner entertainment. You are a very funny man, and you put on a hilarious, clean show. A rare commodity in today's market.
Lincoln Contractors, Supply, Inc.
I've had several complaints about my guests having sore stomachs today from too much laughter last night. Thanks for being such a special part of our event.
Kohler Co.
You were worth every penny! The response to your after dinner presentation has been overwhelming.
Waupaca Area Chamber of Commerce
Thank you for a superior job. I am still receiving comments from our members. They loved you.
Green Bay Traffic Club
I could not have invited better entertainers to our national sales conference than you and you animated friends!
Service Dealers Association
Your presentation was professional and you made us laugh at everything, including ourselves. All the comments were "wonderful, enjoyable entertainment."
Royal Bancshares, Inc. 
You made this our best of awards banquet of all time! Our employees are still talking about your performance.
Waupaca Foundry
---
Keynotes
Thank you so much for speaking at the ABI Conference in Washington, D.C. I'm still receiving comments on your excellent presentation.
Association of Banks-in-Insurance
Your refreshing delivery of meaningful material was the hit of our conference!
Wisconsin Circulation Managers Association
Thank you for bringing your program to Texas. Many of our members said it was the best keynote we've ever had.
Texas Assoc. of Mutual Ins. Companies.
Thank you for an informative and entertaining seminar. And, your after dinner presentation had our members laughing until their sides hurt. Thank you for helping to make our Winter Conference a success.
Director of Conventions and Conferences, MAHB
You left a positive and lasting impression with our staff and our distributors who are all now writing down their goals. It's a pleasure to work with a professional like yourself.
Stoelting, Inc.
You were a major hit at our conference. Your keynote successfully blended useful information with the right touch of humor to effectively carry the message. And, your after dinner presentation was hilarious. We're definitely using you again.
Radio Shack
Your presentation was the most popular part of our conference. Our team members are still talking about how much they enjoyed the manner in which you personalized your presentation to our business.
NCL Graphic Specialties, Inc.
You were absolutely great! The comments and evaluation sheets have all been "outstanding" for both your seminar and your after dinner programs.
Madison Newspapers Inc.
Everyone continues to discuss your presentation, daily. I look forward to retaining your services in the future to enhance our employee and customer communication programs.
Mortgage Guaranty Insurance Corporation